Paula Meyer is a Registered Dietitian with a Master's Degree from New York University's Steinhardt School Department of Food Studies, Nutrition and Public Health. She completed her dietetic internship at The Stamford Hospital in Stamford, CT in clinical dietetics, practicing inpatient medical nutrition therapy;
Paula is a Certified Specialist in Sports Dietetics (CSSD) through the Academy of Nutrition and Dietetics and provides private counseling to adolescent, master and elite level athletes. She has served as a consultant for sports teams and individual athletes at various organizations, including Row New York, UCLA, University of Wisconsin, Columbia University, Georgetown University, Marist College, Sacred Heart University, Nevah Surrendah to Parkinson's, and OARS. Paula is also a master rower and competes nationally and internationally.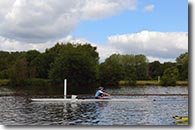 Paula is an active member of the The Academy of Nutrition and Dietetics practice group Sports, Cardiovascular, and Wellness Nutrition (SCAN), whose members are experts in nutrition for athletic performance, fitness and weight management, cardiovascular health, wellness, and in the prevention and treatment of disordered eating. She is also a member of the Oncology nutrition practice group with the Academy of Nutrition and Dietetics. Paula currently serves as a nutrition consultant for ROW - Recovery on Water, Chicago.
Areas of expertise:
Sports Nutrition: Adolescent, Elite and Master
Cardiovascular Disease and Hypertension
Diabetes Management
Weight Management through Lifestyle Modification
Renal Health/ Dialysis/ Chronic Kidney Disease
Gluten Intolerance /Celiac Disease
Vegetarian/ Vegan Nutrition
Oncology and Survivorship Nutrition